Tomorrow Tun Dr Mahathir Mohamad turns 83, So me as a fans of Him wanna show you guys a little bit of his 22years came along in Malaysia.

The beginning…



Malaysia's former Prime Minister Tun Hussein Onn, left, greets Prime Minister Mahathir Mohamad after he nominated Mahathir as his successor, shown in this 1981 photo in Kuala Lumpur, Malaysia.That was the beginning. He then ruled the country for a long 22 years, building Malaysia into a leading economy of South East Asia.(AP Photo, File)

He tours the site of the Petronas Twin Towers shortly after officiating a topping-out ceremony for the 88-story building in Kuala Lumpur, 1996. The towers, now with a height of 451.9 meters (1,482.6 feet), are one of the tallest structures in the world. (AP Photo)


Malaysian Prime Minister Mahathir Mohamad gives the thumbs-up while standing next to a Light Transit Rail (LRT) train, September 8, 1996. The long-awaited LRT system, was intended to bring relief to the traffic-choked city. (AP Photo)
Malaysian Prime Minister Mahathir Mohamad stepping out of a Malaysian made Proton Tiarra after he launched the Proton's sixth model on April 5, 1996. (AP Photo)


Malaysian Prime Minister Mahathir Mohamad greeting local women prior to receiving a progress update on the proposed Bakun Dam hydroelectric project in Sarawak, March 16, 1996. Malaysia's High Court today declared the massive hydroelectric project null and void for non-compliance with the Environmental Quality Act of 1974. It was a major blow to the Mahathir's showcase infrastructure project. (AP Photo)

U.S. President George Bush, right, meets Dr Mahathir Mohamad, left, at the Ritz Carlton Hotel in Shanghai,
China
, Oct. 20, 2001. Even though Mahathir openly criticised the US and the West, he was a leader who welcomed economic co-operation with open hands, making the US Malaysia's biggest customer during Mahathir's rule (AP Photo/Doug Mills)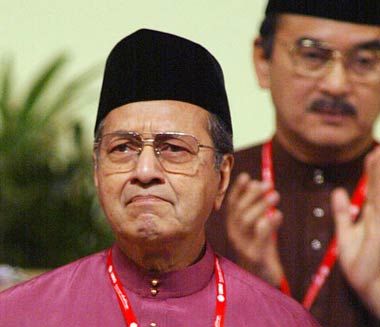 Dr Mahathir Mohamad tries to hold back his tears after his last speech at the general assembly of the ruling United Malays National Organization (UMNO) as Malaysia's prime minister, before his retirement. Kuala Lumpur, Thursday June 19, 2003. (AP Photo)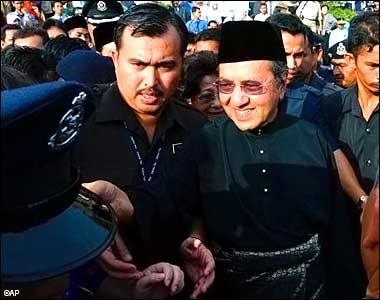 Dr Mahathir Mohamad bids farewell to government staff as he leaves the prime minister's office in Putrajaya, Malaysia, Oct. 31, 2003.
New
Prime Minister Abdullah Ahmad Badawi took over from Mahathir, 77, who stepped down after a 22-year reign over the small Southeast Asian country that some herald as one of the most successful in the developing world. (AP Photo)
Dr Mahathir Mohamad waves to his supporters while returning to Malaysia at Subang Airport, in July, 22, 2006. He is still popular amongst many Malaysians, long after ending his term as the nation's prime minister. (AP Photo)

p/s: 20th December is our 'Bapa Pemodenan' turn 83.