Johnny Depp Is The Riddler, Philip Seymour Hoffman Is The Penguin
?
Johnny Depp is reportedly going to be a part of the next Batman installment playing the Riddler. And not only that, but execs want Philip Seymour Hoffman to play the Penguin.
Johnny Depp Confirmed for 'Dark Knight' Sequel?


Caine tells MTV that he asked a Warner Bros. executive, "How the hell are we going to top Heath?" He was told, "I'll tell you how you top Heath — Johnny Depp as The Riddler and Philip Seymour Hoffman as The Penguin."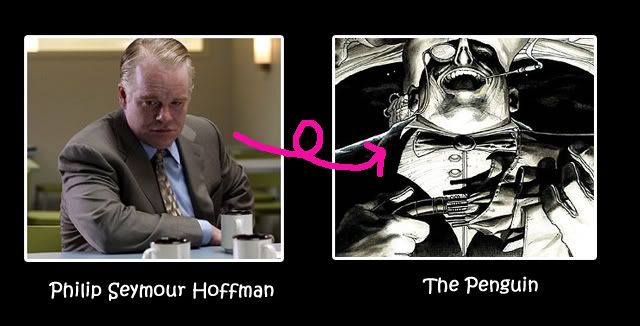 No Penguin in 'Dark Knight' Sequel?


"No one has talked to me about it ever — never," replied Hoffman. "It happened, like, five years ago, too. It was a rumor back then and it's still a rumor. [laughs] It's just in the press. It's funny."
Angelina Jolie to play Catwoman?


"Angelina would own the part," Newmar, now 74, said.
"My industry friends tell me she has already made enquiries about the role. I can understand how it would pique her interest. Catwoman is Batman's one true love.
"She is tremendously popular with women because she's both a heroine and a villainess."
Oh yeah found out this interesting poster,
Look real right? But i don't think is real.

^^