free ticket to the Narnia movie at 1 Utama today 1130am. the ticket free from my best frenz hui giap which from melacca. he work with the OCBC .. then he get some free ticket. then he give me and ask me ask my frenz to go watch it.
me, daniel ,daobin,tommy n his gf dunno wat name(dince tommy duwan tell). we go by tommy car.me wake up around 9am. we go around 10.10am.. but it only take us 30min to get 1 U by car only.. after we arrive, i meet my frenz huigiap and take ticket from him. tat time my sis n her frenz alr there. after we get the ticket then waiting to go in the cinema while waiting voonfei n her gf and keat meng n yeh come. but unfornatuly yeh cant come coz he miss the bus. we get free cold drink n popcorn in the cinema too. NARNIA wat a not bad movie.. 2 hour n a half to finish the movie.
after the movie, we went to take our lunch. we decide to go Wong Kok hong kong food as our lunch. the food just ok for me. n it let me wait almost 30 min =_=||| to eat a okok la food only.. not cheap also.. wat a bu shuang kuai lunch. after tat, voonfei need to go back d. coz her gf got work around 730pm. then we deicede to walk walk in 1 U coz since we seldom can shopping 2gther. then we walk to a SODA shop coz got sale. then daniel decide to buy cloths for cny. n ask me to join them also.. at 1st i duwan to buy anything coz i wanna save money to buy new hp. but then they keep tempting me.. plus im the type of ppl tat cannot tahan shopping when see something i like 1. then we go shop by shop. then really cant tahan d. then think coming day no time to come out to buy cny cloths d then buy now lo.. later only gram money from parent. i brough a long pain, a radioactive shirt , a ROMP teeshirt and a cap. it spend me RM180 alrealy.. cant believe we 4 guy can shop like tat.. shop till 8pm.. we need to back alr.. coz keat meng need to rush back to meet his frenz which wanna fly to US already. then we all go out and take bus to putra station then putra train to KL sentral then ERL to cyberjaya then bus to cyberia. hui giap act wanna back melacca tonight but after shopping with us, he cant make it d. so he overnite at my house 2night loh. it was really tired. 10 am go 10pm back.. 12 hours at outside. really tired.. standing in bus also wanna sleep.. anyway, my frenz here get a new frenz from me. tat was hui giap. they all very frenly. and they was 1st time hui giap come my place. he said it was out of his expectation this place.. so ulu.. haha..
hui giap leave here another day morning 7am. i acc him go down n wait the 868 bus.. anyway, really need to thanks him for coming so long here to give us the free ticket =) you really a good frenz of mine. just i dunno how to express it... frenz forever~!!!
bellow are the pic which we taken in ERL while back to cyber. 4 guy SS in ERL .. haha..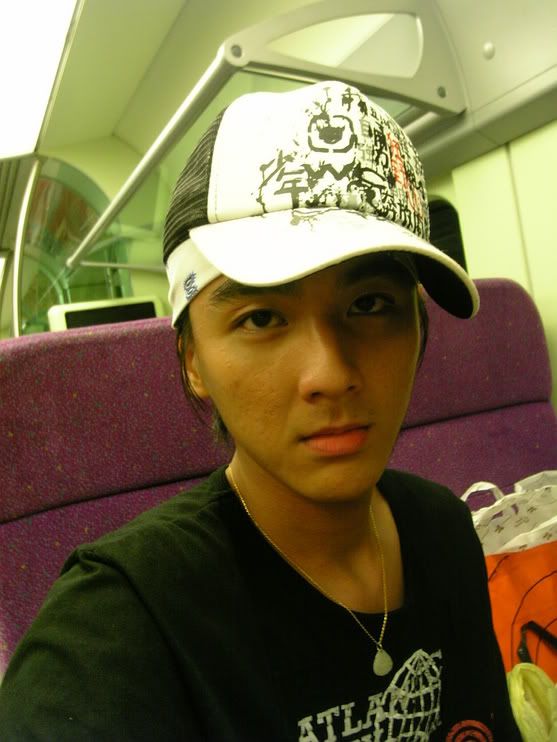 me myself me myself
me with my best frenz hui giap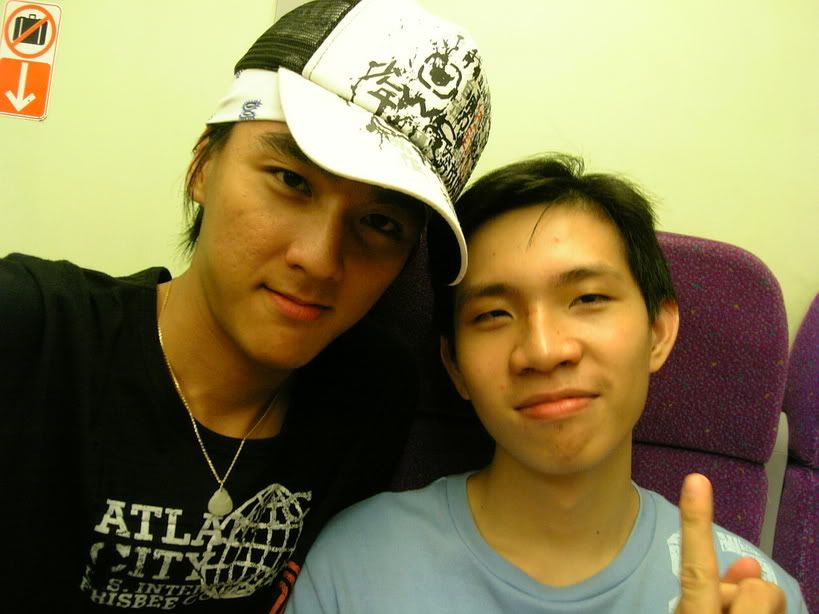 me and daobin
me and Daniel with "yum sui" =_=
"he zhao" in ERL .. ^0^
"he zhao" no.2.. v(^o^)v